If you have ever doubted the power of video marketing, then you need to read these impressive facts that prove why you need to start making use of video marketing!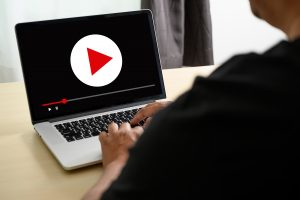 1. 93% Of Internet Users Worldwide Watch Digital Videos Weekly
As we already knew video content is viral. However, The average viewer now spends 100 minutes per day watching online videos, which is a surge in online video consumption.
91% of marketers believe that the pandemic has boosted the value of video for brands and businesses. 
So With 93% of internet users actively watching videos online, you could be missing out on a large chunk of your potential clientele if you're not posting videos.
2. 54% Of Consumers Want To See More Video Content From Brands
This means that the demand for video content is only increasing. More and more people aren't just watching videos to entertain themselves, they're watching to learn more about the companies they support.
According to studies by HubSpot, 54% of consumers want to see more video content from businesses or brands they like.
This survey's respondents asserted that video content is more popular, in part because viewers are more likely to pay attention to it. There is a greater propensity for audio and written content to be skipped over.
Video is a fantastic approach for marketers to grab the audience's attention more.
Learn from this fact and give your audience what they want and create videos that get you seen online.
3. 86% of Businesses Use Video As A Marketing Tool
72% of customers stated they would like to watch a video to learn more about a product or service. So it should come as no surprise that an increasing number of businesses are incorporating video into their primary marketing strategy.
The percentage of companies adopting video climbed from 63% to 86% over the past three years.
This means that brands also need to be careful as to not miss out on the opportunities that video marketing can provide them.
As the demand for video from consumers increases, it's unsurprising that more and more marketing teams are using the format more regularly.
4. 66% More Qualified Leads Per Year With Video Marketing
In addition to a 54% boost in brand awareness, video marketers are getting more and more qualified leads, according to a new Optinmonster survey.
Including a video on your landing page is also an effective way to boost conversion rates. Wordstream claims that videos could increase conversion rate by up to 80%.
93% of marketers also reported having landed a new customer as a result of a social media video.
5. 88% More Time spent on A Website With Video
Want to decrease your bounce rate and keep customers on your site for longer? Then, video is the answer.
Videos engage users for longer on your website, increasing the chances of them becoming committed customers.
This might be related to the fact that watching videos helps viewers remember messages. Particularly in comparison to text-based information.
Likewise, compared to text or photos alone, videos have a 12 times higher likelihood of being shared on social media.
Have a look at some of the client videos we have produced. If you like the look of them – get in touch!