Improving your marketing strategy should be one of your brand's main aims for 2020. Visual content has always been an important aspect of your strategy as it engages more and more customers and increases the reach of your brand.
Here's our guide to the different types of visual content you can include in your marketing strategy and why images are so powerful for your brand.
Why Should Images Play Such A Huge Part In Your Marketing Campaigns?
65% of people are visual learners, meaning they will remember information in a picture more easily compared to block text. Images grab the attention of readers and social media fans, enticing them to read more from you and your brand. It only takes your follower one-tenth of a second to understand your visual scenence, whereas it would take the same reader 60 seconds to read 200 to 250 words! Therefore, images are a great way to get information across quickly and more effectively. Think about how you can create graphics, moving images and GIFs to attract audiences and better explain your business to new clients.
Effectively you have ten seconds to clearly communicate your proposition if you want to gain a few minutes of a user's attention. Grab this attention with visual content.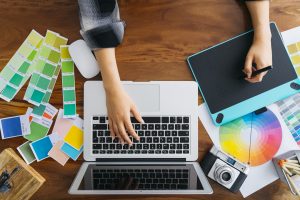 What Type of Visual Content Should I Use?
Images 
Visual Content posts with images get 94% more views than those without.
Posts also receive 2x more shares if they have an image once every 75-100 words. If you have fewer images than that then you will generally receive fewer shares.
Videos
300% more inbound links are seen with posts that have videos as visual content.
In 2017 video accounted for 74% of all consumer internet traffic.
Infographics
People tend to follow directions better if they are coupled with infographics
Posts with infographics get x3 more shares and likes on social media than any other content.
SlideShare
x5 more traffic is seen from business professionals than other websites
80% of traffic is seen through organic search, so uploading your slides to give your brand an increased SEO advantage
Screenshots 
88% of people read reviews to determine the quality of a business. Therefore, use visual content such as screenshots of customer testimonials to highlight the positive feedback your brand receives.
Screenshots with some marketing copy or a testimonial will boost your credibility.
Overall, you can clearly see how influential images are to your marketing strategy. If you need help creating graphics or forming a strategy that gets you seen online remember to talk to our team to see how we can help!