This week social media network, Twitter, has published the latest listings of key events, hashtags and trends that were most prominent in 2019! Find out more about the trends, and predict what will be popular online in 2020 by reading our review!
TV Shows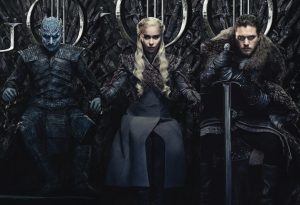 The first category was the most talked and tweeted about TV programmes worldwide.
Game of Thrones
Stranger Things
The Simpsons
La Casa De Papel
Grey's Anatomy
Love Island
Catfish: The TV Show
Family Guy
The Walking Dead
Narcos
Game Of Thrones really utilised Twitter to promote and build hype for their final season in 2019. They even created the hashtag "Winter's Coming" which became a universal signal and meme, further advertising the show.
Actors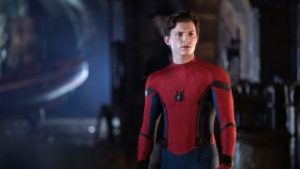 The top tweeted-about actors,  according to worldwide trends were as follows ;
Tom Holland
Chris Evans
Zendaya
Robert Downey Jr.
Cameron Boyce
Keanu Reeves
Chris Hemsworth
Kanna Hashimoto
Jennifer Lopez
Mark Ruffalo
Following the release of Spiderman, it's unsurprising that Tom Holland came up high on the list. Cameron Boyce's unfortunately sudden death was also a moment talked about worldwide.
Musicians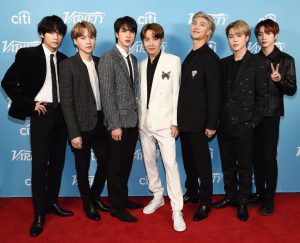 2019's top tweeted Musicians worldwide also saw the following make the list of trends;
BTS
Ariana Grande
Drake
Rihanna
Cardi B
Justin Bieber
Beyonce
Kanye West
Billie Eilish
Lady Gaga
Teen superstar Billie Eilish also rose in the ranks as she's shot to fame over the past couple of years. As well as Korean pop band BTS who made their way into the more mainstream UK charts.
Emojis
Finally, the most important list – the trends of emojis!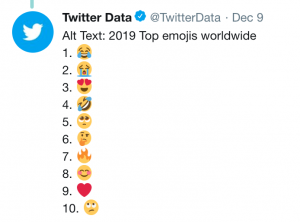 All of these lists are largely as you'd expect. However, it is interesting to note the various trends and consider what Twitter users are most interested in to plan your content for next year. It also shows the importance of keeping up with the current climate and popular culture!
If you are an entertainment or media brand this list is incredibly insightful. So, use the information to see how you can create a buzz as things like recent TV shows and actors did in 2019.
What makes your brand "tweet-worthy"? Let us know on social media!