This week we looked at some of our favourite Halloween themed marketing campaigns. Sit back and learn from these spooky campaigns. Hopefully, they will inspire your brand to think outside the box this season!
1. Skittles' Zombies Goes Viral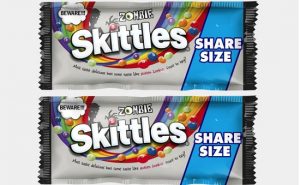 Predictably, sweets and chocolates are a big seller at Halloween. So much so that 9 out of 10 Halloween shoppers in 2018 planned to buy sweets for Halloween.
This year, confectionery company Mars, chose to do something different and brand their product Skittles as Zombies. The packs contained 5 different Halloween flavours such as Boogeyman Blackberry and Mummified Melon. It also contained a 'rotten' flavour that consumers would only realise they were eating once they tasted the horrible flavour in their mouth.
This is a great example of a Halloween marketing tactic that looks to increase sales, getting consumers excited about new products and what the company has to offer. Mars accompanied this new product with influencer marketing, playing on the psychology of daring your friends to eat the sweets and making a game out of the product.
Think about how you could use emotion-inducing techniques in your campaign. As Skittles stated: "It's an utterly disgusting taste experience that will elicit strong reactions from anyone and everyone daring enough to try it." And what creates a better marketing campaign that evoking strong emotions!
2. Unicef's Halloween Heroes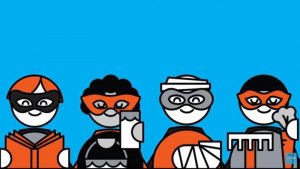 This year, UNICEF approached Halloween differently, playing on the technique of Nostalgia in their latest campaign. Like with the release of the new Lion King and Aladdin UNICEF wanted to remind American adults of their childhood, so reinvented the Halloween Heroes campaign, where children would go trick or treating with a bright orange UNICEF money box, collecting donations whilst they received their chocolates and sweets.
UNICEF reinvented this campaign to create a fully digital piece. The four "hero" characters each represent a child's right to, eg. water, food, education and security.
The campaign and ongoing videos reminded adults of a fonder time, showing that you don't have to reinvent the wheel when it comes to marketing, if an idea's good a revamp and digital reinvention is all you need.
3. Burger King's Trolling Clown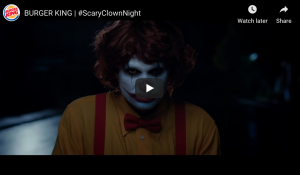 This year Burger King came up with an ingenious marketing campaign. They combined customer interaction and cheekily poking fun at competitor Macdonalds all in one.
Burger King also launched their campaign by offering a free Whopper Burger to the first 500 people to visit a select Burger King store dressed as a clown (dig at MacDonald's Ronald MacDonald there!). The campaign was promoted with the release of a YouTube video and the hashtag #ScaryClownNight.
This tongue in cheek campaign promoted the Whopper and got people talking online all in one go!
There's lots of fun to be had this season, so think creatively. Come and see us for ways that your brand can stand out whatever the season!