Facebook has shown, with its latest invention, that its main aim is to never lose touch with the kids via memes! The site has realised that it has the possibility of being trumped by the next big app that will take over their digital space and get young people excited about a new platform. With this being said Facebook has been proactive in keeping its youthful audience. To do this they have created a brand new app, Whale.
Whale is currently only available to Canadian users as part of a "New Product Experiment" platform, to initially test how the app is responded to. The app itself allows users to create their own memes, providing them with simplified templates and tools.
Whale describes itself on the app store as: " No distractions, no hidden subscription pricing. Use your own images or choose from our stock photo library and get creative with text, tools, effects and more right inside the app."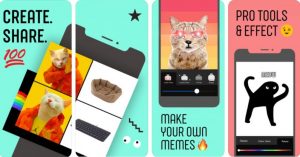 How To Use The Meme App
The app is seemingly very simple to use. First, you pick your image as a template. This can either be your own or from the stock library. Then simply add text, emojis and filters to turn your image into a meme. Users can then save and share the graphic to various social media platforms directly from the app itself.
The idea is that although this is a fairly basic app, it will allow more and more people to get involved with creating memes and online trends. If Whale keeps on top fo the latest trends they can offer users the most up to date and relatable templates, as more and more users turn to the app to share images online.
At the moment Whale doesn't appear to have any direct comparisons and competition, however, it does look like it may rival the likes of Giphy (which already claims to have over 300 million daily active users).
But, the big question is – will it work?
As we've mentioned it could have functional value, leaning more users into meme trends. However, do we know if this will gain momentum? That's why Facebook has started testing it out on Canadian users.
it's interesting to note what youth trends Facebook is looking at and deeming worthy to tap into. It is seeing gaps in the market and facilitating users who need their help.
We're excited to see how this platform will perform amongst the younger audiences. And we can't wait to start making memes once it has passed its tests in Canada!