When it comes to search engine optimisation we talk a lot about link building and getting other sites to link back to your pages. However, what if you create links to other sites within your webpages? Do these outbound links improve or even affect your SEO?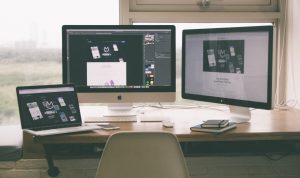 What Are Outbound Links?
Outbound links are ways for audiences to leave your page, therefore most companies tend to avoid them. Unlike inbound links, which send visitors to your page, these outbound links send visitors to a completely different page for a different business or information source.
Outbound links may be used on blog posts when you're talking about a different site or company and you need to give your customers a direct link. Therefore, these links can make sure that you're a credible source.
There are two types of outbound links.
Nofollow
Dofollow
Most links are Dofollow links and will, therefore, pass on ranking power from your website to the target page, whereas nofollow links don't. This means that a nofollow link will tell search engines not to follow this link.
Do These Links Matter?
Ultimately, links help users find more about different topics. If you have a few outbound links on your page, you are providing your customer with an easy way to learn more, and they are often grateful for this. However, if you're going to link outside of your site be sure to check your sources.
From an SEO point of view, typically external links pass more value than internal links. This is due to the fact that search engines can see other people are finding what you're saying important, so will recommend you to other customers. As we previously mentioned, whether a link affects your SEO is down to what type of link it is. A nofollow link will provide your audience with the information without decreasing your SEO, whereas a dofollow link will ultimately decrease your SEO.

Should We Care About Outbound Links?
Link building is often known as a critical component of SEO building. We need to care about all types of link building, whether it's internal, external, inbound or outbound to keep an eye on and improve our search engine optimisation.
Here are several reasons why you should include outbound links on your website;
1. Links Heighten Popularity
Google aims to show its users only the most informative and active pages. External links are a great metric to gauge this. The more links, the more popular a page is and therefore, higher up the search engine results it will go.
2. Links Increase Relevance
Links also indicate the importance of a page. Ultimately, search engines want to help people find what they're looking for. When you include outbound links you are doing this too. If, when creating an outbound link, you use highly relevant keywords then Google will reward you with increased SEO. For example, if you are linking to a woman's fashion page try to keep the linking words relevant using words like "women's clothing" rather than "men's clothing" or "food shops". With relevance, you are showing Google that your main aim is to help your audience, and they will reward you with increased optimisation for this.
3. Links Improve Reputation
Outbound links, as we've previously discussed can improve your overall website reputation to both Google and your customers.
If you link to nonsense or spammy sites it will reflect badly on your own as you are not an informative source that double-checks their sources. So include good outbound links with high-quality sites as sources.
4. Encourages Backlinks
Finally, one of the most important reasons you'd ever include outbound links is because these encourage backlinks. When you link to other credible sources on the web they will be more likely to link back to your site as well. Including links to relevant blogs will build incentives for bloggers and other sites to engage with your site and promote your content as well. This increases your authority and your SEO all at the same time.