Halloween is fast approaching! Is your brand getting into the festive spirit?
Here are some classic Halloween marketing campaigns that your brand could use to inspire your marketing strategy this spooky season.
1. Hershey's Horrifically Good DIY Videos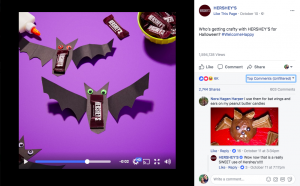 USA based chocolate brand got its customers excited about Halloween and reminded them to buy their candy ready for trick or treaters by sharing Halloween DIY videos. Overall, in 2018 this campaign received a total of nearly 10,000 interactions on Facebook! This brand used video to create a short clip of how you can turn their bars into little spooky gifts for visitors this season.
Hershey's successfully created marketing that doesn't feel like marketing through this campaign, providing their audience with useful and fun content!
So, could you create some kind of DIY videos that use your product?
2. Disney World's Spooky Behind The Scene's Tour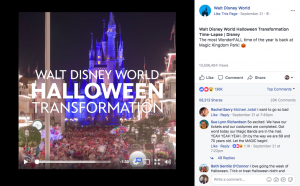 Disney reminded people that the park was still a spooky activity by creating behind the scenes time-lapse videos for their customers. As most customers would think to visit at Christmas time Disney wanted to remind people that there are still fun themed Halloween events to attend at the park at this time of year so created a video for customers. This video also showed the behind the scenes content of the park being decorated and encouraged fans to visit IRL!
So, could you film a timelapse of your offices being decorated to show the personality behind your brand?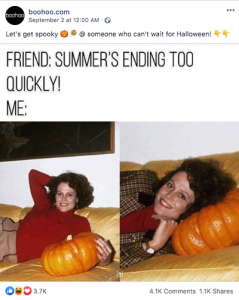 Therefore, Halloween doesn't have to be terrifying. Fashion brand Boohoo also encouraged customers to get into the spirit by sharing funny Halloween memes. This is a great way to spice up your campaign without scaring off followers!
The key thing to remember is to choose a meme that resonates and doesn't alienate your audience!
Hopefully the above will give you some inspiration in thinking outside the box with your marketing strategy this season! Let us know of any Halloween campaigns you remember or love.