At long last for many Facebook has finally launched WhatsApp dark mode. Facebook has announced that they are "excited to update WhatsApp with the most requested feature from users everywhere — dark mode".
They went to explain that Dark mode for WhatsApp offers a "fresh look on a familiar experience".
The theme has been designed to reduce eye strain in low light environments and will hopefully (and possibly most importantly) helps prevent those awkward moments when your phone lights up the room. When designing dark mode for the application, Facebook focused on these two elements:
Readability:

They chose colours similar to the system defaults on iPhone and Android and colours that would help reduce eye fatigue.
Information Hierarchy:

They used colours and various design elements to make sure the most important information stands out.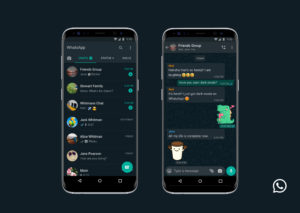 WhatsApp dark mode isn't something new to the market, dark mode has begun rolling out on various platforms and devices. Android 10 will now support dark mode and Facebook's web app now has a new look and dark mode theme.
Switching to dark mode in applications and devices isn't just an aesthetic thing, it also has its health benefits. Eyes are less strained when viewing something in dark mode as white light reflects all wavelengths of light which stimulates all the visual receptors in the human eye. Because dark mode reduces the strain on the eyes, it can make it easier for migraine sufferers to use their phone without needing to adjust blue light filters and wearing blue light filtering glasses.
Have you turned to the dark side? What do you use in dark mode? Let us know by getting in touch with us on social media.