Pinterest has recently released its letter to shareholders which breaks down their performance for quarter 4. These figures serve as evidence to advertisers that Pinterest is a platform to be investing in. We've broken the report down and looked back at the predictions the platform made for itself in 2015.
How the Platform works
If you're not familiar with how the platform works, let me break it down for you first.
Pinterest works as an online pinboard. Uploads are visual-based and users can use the search platform to find something they're looking for. If someone likes a post they can "pin" (bookmark) the post and add it to a "board". Have a readthrough of this document made by the platform which breaks down the top searched trends of 2019. For example, last year there was a 2215% increase in searches for bamboo relating to ladies' fashion.
Leaked Documents 2015
In 2015, documents were obtained by Tech Crunch that contained information regarding Pinterest's projections for the following years ahead. At this point of time, Pinterest was only generating $25million in revenue but projected by 2018 there would be 329million monthly active users and a huge jump in revenue to $2.8billion. Whilst these predictions may have been a little far fetched, the platform wasn't so far off in the predictions made.
Revenue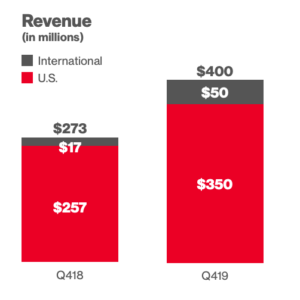 2019 wasn't just an amazing year for Pinterest in terms of it's MAU growth, they saw a 46% ($400million) increase of income Year on Year in the 4th quarter, taking their total year intake to $1.14billion. The company saw a significant increase in the percentage of people saving their ads in Q4.  Pinterest CEO, Ben Silbermann explained that "The key here is making sure ads are relevant to our pinners' interests, projects, and plans."
User Growth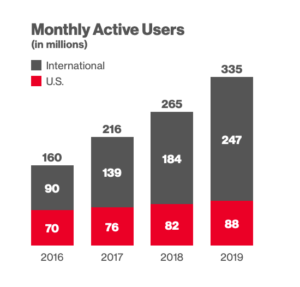 Pinterest has beaten Twitter, Snapchat, LinkedIn and Facebook in terms of monthly active users (MAU) growth in 2019. Pinterest tops the list with a 26% user growth rate followed by Twitter who reportedly has had a 21% MAU growth. Internationally (everywhere but the US), they say a 35% increase on monthly active users compared to the year before. Not surprisingly, Facebook is at the bottom of the list with under 10% growth. With the platform's user growth rate beginning to slow, it wouldn't be surprising if we saw a lower figure for 2020.
With any social media platform, an increase in user growth is a sign that the platform is relevant in people's eyes. Pinterest is unique when you compare it to other platforms such as Facebook where it has been synonymous with DIY projects and following fashion trends.
Shopping Ads
Conversation campaigns (advertisers can use with Checkout, Signup, Lead, or Add to Cart) grew 150% in 4th quarter year-to-year. Feed based shopping ads also saw an increase in the second half of the year where they doubled when the number of monthly advertisers buying the ads grew by 125%.
International Markets
Currently, the majority of users are from the US, with 77.32million as of October 2019. Germany, France and the United Kingdom are next on the list with a combined number of 31.16million users. Pinterest has been pushing to expand its user growth in markets like India. Whilst these efforts won't contribute significantly to the platform's bottom line – it means that the platform is well-positioned for future endeavors.
Will Pinterest's monthly active users continue to grow? The platform saw a steady increase in MAU throughout 2019 and 2020 seems set to continue this growth. Let us know what you think about Pinterest's growth by getting in touch with us on Facebook, Instagram, LinkedIn and Twitter.