In light of recent lockdown regulations, many event organisers have had to concede to hosting online events. Despite the in-person connection, much of the information shared is replicated through this medium.
LinkedIn responded quickly in April, and went ahead making its Events option available for all company pages. Now they are taking a step further by looking to add more capacity for hosting professional events. They have added LinkedIn Live into the events stream, enabling the full broadcast of virtual functions directly onto  the platform.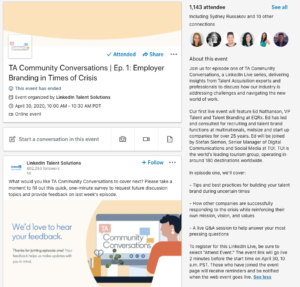 As explained by LinkedIn:
"We've accelerated our product roadmap to bring you a tighter integration between LinkedIn Events and LinkedIn Live, turning these two products into a new virtual events solution that enables you to stay connected to your communities and meet your customers wherever they are. This new offering is designed to help you strengthen relationships with more targeted audiences."
The function remains the same – the event is broadcasted in LinkedIn Live, and event info is hosted on a normal event page. However, one can now limit the broadcast of the live video to only those who have chosen to attend or the company's followers. This is also means, any related event discussion and any additional content will also be hosted on the one dedicated page.
With regards to live-streaming, this merge is particularly important.  "LinkedIn Live broadcasts generate 23 times more comments and 6 times more reactions per post than native video", according to the company. Therefore, all related discussions hosted on the event page, will create a more holistic event solution. Once the event concludes, the content will be added to the 'Videos' tab on the company page, be to be stored for future reference.
It is simple for attendees to access as well. Upon clicking/tapping "Attend" on a virtual event, a notification is sent via the platform when the stream goes live. Attendees are then able to attend the event and interact with other members.
The platform has certainly proven to have notable engagement statistics for live broadcasts and is worth investigating as an option to hosting your next event
If you require any help with how to utilise these new features for effective event marketing, visit our Social Media Marketing service or get in touch at hello@imagematters.agency.