In their recent AI blog, Google explained that there is a fatal flaw in current chatbots – they're not human enough. They've announced they've been working on something new called Meena and the problems that will need to be overcome.
The Problem with Chatbots
In 2016, Facebook launched in 'Bots for Messenger' platform where it allowed businesses to build their own bots. When Facebook launched the platform they explained that "bots can provide anything from automated subscription content like weather and traffic updates, to customized communications like receipts, shipping notifications, and live automated messages all by interacting directly with the people who want to get them."
Whilst there are now more 300,000 active chatbots on Messenger, the functionality never gained the traction the way Facebook had envisioned. The model had been based on the success of similar models in China but didn't transfer well to the Western market.
Bots, in general, have not gathered the attention their creators aimed them to have. The issue with Messenger would mainly be down to the fact that it's not in the right platform. Messenger is a place where people go to connect with friends and family – not to get information.
The key issue, which Google has touched on in their recent blog, is the idea that they're not engaging enough. You've most likely noticed this in your smart home devices. You've tried to give Alexa or Google a command, it either doesn't understand the request or the reply feels robotic.
The Success of Chatbots
Whilst there has been some backs in the chatbot industry, there has been some chatbots that have found success. Microsoft's Little Ice -Xiaolce in Chinese- has actually passed the Turing test for 10 minutes. This means that users of the bot did not realise she was, in fact, a bot. This would be down to the fact that Xiaolice is now on it's 7th generation (since being released in 2014). Xiaolce's conversational ability is down to text mining – a difficult feat in English alone but text mining Mandarin is a harder task due to meaning being dictated by content and nuance rather than grammatical structure.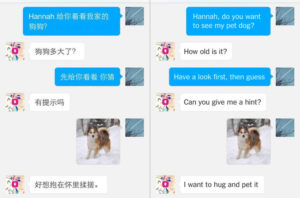 Xiaolce was the technology that powered Tay AI on twitter that had to be removed due to it becoming quite offensive.
The Way Forward With Meena
In their recent blog post, Google announced Meena. Meena is an end-to-end, neural conversational model that learns to respond sensibly to a given conversational context. The model has been taught how to guess the next word in a conversation by minimizing the uncertainty of the next token.
Google explained, "modern conversational agents (chatbots) tend to be highly specialized — they perform well as long as users don't stray too far from their expected usage." – meaning your smart home device can respond to the requests you make as long you don't ask them something they're not capable of. For example, I can't currently ask my Google Nest to send text messages, because that functionality hasn't been built in yet.
If Meena prooves to be a long term success it would open up the possibilities to further "humanizing computer interactions, improving foreign language practice and making relatable interactive movie and videogame characters." AI is already being tested to create scripts for Podcasts and Videos, with big studios looking to invest in this to save money on hiring screenwriters. The research is still ongoing but with the way technology is advancing, I can't imagine it would take too long before the ideal chatbot exists.
Does your business use AI or chatbots? Have you got smart devices at home? Get in touch with us on Facebook, Instagram, LinkedIn or Twitter to share your thoughts.